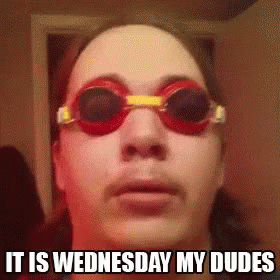 I got home from the barn. Quickly changed from my breeches to running shorts. Dashed downstairs and put on my running shoes. Just as I was locking my front door it started to pour. If it weren't for the thunder I would be trying to get a quick 3 miles in. The lifeguard in me still tells me to stay inside during thunder. So now I'm sitting on my couch, watching Netflix, and eating leftovers from last night. Yay Florida life....
On the bright side, the rain is pretty to listen to and I do need to write as opposed to my usual say I'll write and walk away.
In an effort to start keeping up with this, I'm going to try and set a few days for regular posts. Everything else will be a fun extra that I'll write as I think of it (or say I will, write it halfway then walk away). One of these regular days will be Wednesday since it's mid-week and I'm usually settled into my work week at this point. Because I'm super creative these posts will be labeled "What's Up Wednesday?" and will try to cover anything that's going on in my life. The plan will be to segment these posts into four sections: Run, Ride, Read, and Repeat. The first three sections are exactly as they sound, and the fourth section, Repeat, will be for anything else that's going on in my life.
So without further blabbering, let's begin the first "What's Up Wednesday?'!
Run
I stopped running. After the Star Wars Half Weekend I took time off to let my foot heal and didn't really start once I felt better. A few weeks ago I went and did three different runs to see where I was at in my baseline fitness. The first was on June 4th and I did a mile in a run/walk pattern, this was done in 11'01". The second was June 6th and I decided to do an easy mile without walking. This was the first time I've ever run a mile without walking since high school and I'm proud to say that I was able to complete it in 10'56"! The third run was 2.5 miles, on June 9th, at an 11'27" pace. For this run I did end up doing a run/walk pattern and I really don't have an excuse as to why I decided to not slow down and run the whole thing.
My goal is to run a 10k this fall without walking (other than water stops) which means I'll have to put in substantial training. I am currently planning on running the
Celebration Rotary Club's 19th Annual Pancake Run
on October 28th. My ultimate goal would be to do the 10k in under an hour, but for right now I plan on beating my PR of 1:14:46. I know I have it in me to PR, I just need to take this training seriously and make sure to run enough races before so that I'm ready to really rock it.
Ride
Cupid is doing well. We showed at the Sumter Equestrian Center in their May Hunter/Jumper/Dressage Show and did fairly well. I am in the process of finishing this recap so you should see that in more detail at a later date.
Currently, Cue and I are working on our flat work. I've started to ask her to use her hind end more and she is responding beautifully. We have plenty of moments where she is clearly confused but she attempts to respond to me and it's those attempts that make me appreciate how good of a mind she has.
The biggest news I have regarding Cupid is our upcoming move. On July 1st, Cupid and I will no longer be training with our current trainer or boarding at our current barn. I made the decision back in May to move out to the West side of Orlando for several different reasons. The main reason being that I want to have access to trails and would like to be at a property that does not flood. If you follow me on Twitter then you have seen my complaints about the current barn flooding. It will be nice to be at a place that was build uphill and has better drainage.
Read
If you follow me on Goodreads you'll see that I have been binge reading
The Saddle Club
series. As a joke I picked up the first book because I had read about how bad the horsemanship is. This has turned into me laughing over the writing and horsemanship, while appreciating that these are great books for the horse crazy child. When I wasn't able to ride these books let me maintain my love for horses
I'm also reading
Little Women
again. A few years ago I decided to start the Rory Gilmore Reading Challenge and this is one of the books on the list. I'm in no hurry to complete the challenge, I just would like to do so before I turn 30. Since
Little Women
is one of the longer books it makes sense to read it with ample time to finish.
Repeat
Last weekend I had my second concert with the CFCArts Orchestra,
American Roadtrip
. This stands as the concert I am most proud of. The music was challenging yet the entire orchestra, including myself, rose to the challenge and put on an amazing show! Manager attended one of the performances and stated that it was his favorite one yet. Our next concert is
¡Fiesta! and will be on November 3rd and 4th. I can't wait to challenge myself further and perform with the orchestra again!